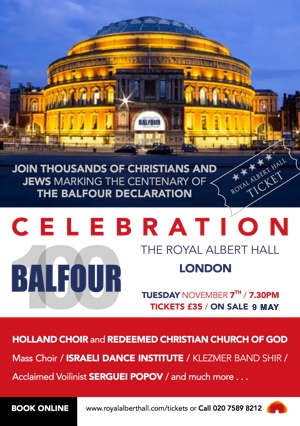 Several years before the November 2017 anniversary of the Balfour Declaration's publication, LNF was looking at possible ways of marking this key date in both the Jewish and British calendars. A number of options were discarded and eventually we agreed that a large-scale public celebration for both Jews and Christians to attend would be the right way forward. As this project rapidly became larger and more expensive, a separate limited company was opened and the planning group grew to include experts from beyond LNF members.

Our intention was always to bring Jewish people and Christians together, since the Balfour Declaration itself had involved much co-operation and friendship between British Christians and Jewish leaders. We wanted to reflect key historical points while at the same time making statements that would reflect our desire to love and support Israel and the Jewish people today.

The result of several years of planning, fund-raising and hard work was "Partners In This Great Enterprise", an evening of music, drama, dance and singing in the iconic Royal Albert Hall, one of London's biggest and most prestigious concert venues. Some 3,000 to 3,500 people from both communities, including a number of peers, ambassadors and other VIPs enjoyed a mix of Jewish and Christian music, historical drama sketches and meaningful statements from Christian leaders concerning Britain's and Christians' relationship with Israel.

The waves that were caused by this centenary event are still travelling and it has been gratifying to see improvements in Jewish-Christian relations in the UK coming about as a result of the event.