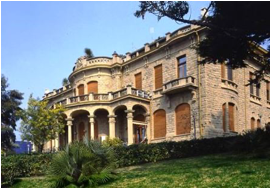 Castello Devachan stands on a hillside at the end of Corso degli Inglesi, overlooking the Italian Riviera town of San Remo. The villa itself has a chequered history, including use as the local Gestapo HQ during the Second World War, but its claim to fame dates from April 1920 when it was used by the newly-formed League of Nations to house a conference to decide the future of the Middle East in the aftermath of the First World War. Here lie the beginnings of the reborn State of Israel, and the Agreements made at that conference are still valid today and vital to a proper understanding of Israel's right to its land, including territory currently occupied by Palestinian Arabs.
2020 marks the centenary of this conference, and therefore of the Mandates which stemmed from it. In conjunction with the Jewish "UK Lawyers For Israel" and contacts in parliament, LNF played a part in enabling both Jews and Christians to remember this pivotal event.
For more details of the centenary events and ticket information, visit our special event page.